Specializing in thermal conductivity materials, Itowu prides itself on delivering cutting-edge solutions for various industries. With a strong focus on nitride series products such as boron nitride powder, boron nitride ceramic, silicon nitride powder, silicon nitride ceramic, aluminium nitride powder, and aluminium nitride ceramic, we have become the go-to choice for high-quality materials worldwide. Discover the unmatched performance and reliability of our Itowu high purity crucible with cover, designed to meet the most demanding thermal processing applications.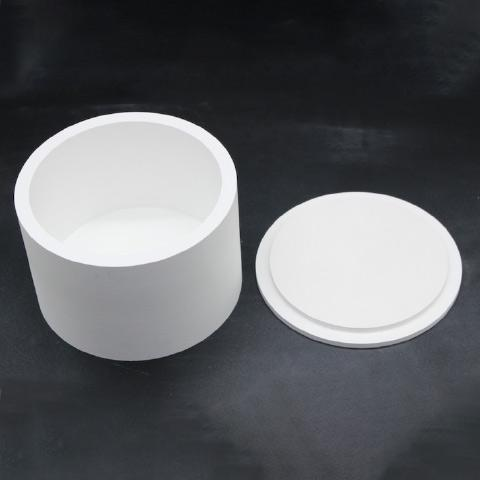 Unparalleled Purity and Performance
At Itowu, we understand that purity is paramount when it comes to crucibles used in high-temperature processes. Our high purity crucible with cover boasts an impressive purity level of up to 99.7%, ensuring a clean and contamination-free environment for your critical operations. With no adhesion and no pollution, our crucibles offer a long service life, giving you peace of mind and consistent results.
Extreme Temperature Resistance
Designed to withstand the most extreme temperatures, Itowu high purity crucible with cover can operate at the highest temperature of 2100°C. Whether you're sintering, smelting alloys, working with ceramics, or handling rare earth materials, our crucible stands up to the challenge. With outstanding high and low-temperature resistance, it can handle repeated thermal impacts without compromising its integrity.
Enhanced Protection and Efficiency
Utilizing the exceptional properties of boron nitride, our crucible provides comprehensive protection for materials in direct contact with molten metals such as aluminum, magnesium, zinc alloys, and their melting slag. With its high temperature resistance, non-bonding nature, corrosion resistance, and superior heat dissipation, Itowu high purity crucible with cover ensures the integrity and quality of your products. Experience faster melting, efficient heat transfer, and improved overall efficiency in your thermal processing operations.
Invest in Itowu Nitride Ceramics for Unmatched Quality and Service
At Itowu, we take pride in our mature and advanced production technology, supported by experienced and professional research and sales teams. Our commitment to quality is reflected in our adherence to the ISO9001 quality management system, ensuring that our products consistently meet rigorous standards. Additionally, we strive to maintain a sustainable and environmentally friendly approach by following the requirements of ISO14001 and effectively implementing pollution prevention measures.
Conclusion
When it comes to high-temperature crucibles, Itowu stands as a reliable innovator in the industry. Our Itowu high purity crucible with cover offers unbeatable purity, extreme temperature resistance, and enhanced protection for your critical thermal processing applications. With our unwavering commitment to quality, advanced technology, and exceptional customer service, we are your trusted partner in achieving optimal performance and reliability. Experience the difference of Itowu nitride ceramics and elevate your thermal processes to new heights.